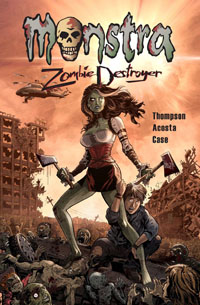 Tomorrow we will be posting a podcast interview with Mark Thompson (owner of www.devilsduedigital.com) and wanted to take the opportunity to share his current project with all of my friends (that's you).
With a group of hand selected artists, Mark has launched the first in a number of creator owned titles through Kickstarter. The first title; MONSTRA: ZOMBIE DESTROYER! is up and running right now.
MONSTRA: ZOMBIE DESTROYER will be published as a full color graphic novel containing 125 pages of Flesh Eating, Zombie Killing, ax wielding, awesomeness!
The Press Release for the Comic gives the following Synopsis to the story:
The story involves a sentient zombie and her slacker boyfriend at the outset of the end of days. The government has contained an initial outbreak of infected undead . A widespread zombie outbreak has been averted through military involvement and the